When I was pregnant with my first child, the pack 'n play (also called a pack & play, playard, or play pen) was one of my first baby registry additions.
Why? No idea. But everyone said I needed one, and I'd at least heard of a pack 'n play before (unlike so many other products with weird, cutesy names like Boppy and Bumbo). So onto the list it went.
Luckily for me, my kids have loved their pack 'n play, and it was worth every penny. But I also know that baby gear is very personal, and my experience alone just isn't enough data. I wanted to know whether most people thought pack 'n plays were worth buying, so I did some more research.
(If you'd like to read about ALL the baby products 6,000 moms did (and didn't) recommend over my six months of research, you can read my essentials-only baby registry checklist article here!)
I have surveyed a LOT of parents by now in my quest to determine exactly what new moms and dads actually need to bother buying. (You might have seen my articles on whether or not you need a high chair or whether baby bathtubs are necessary.) But this pack 'n play survey blew all the others away– with nearly 800 responses! So here's what the collective wisdom of all those parents had to say about pack 'n plays.
Do You Really Need a Pack 'N Play?
According to the hundreds of moms who took the survey shown below, only 19% said pack 'n plays were absolutely essential. However, another whopping 72% of parents said that if you could get one, they were still worth buying.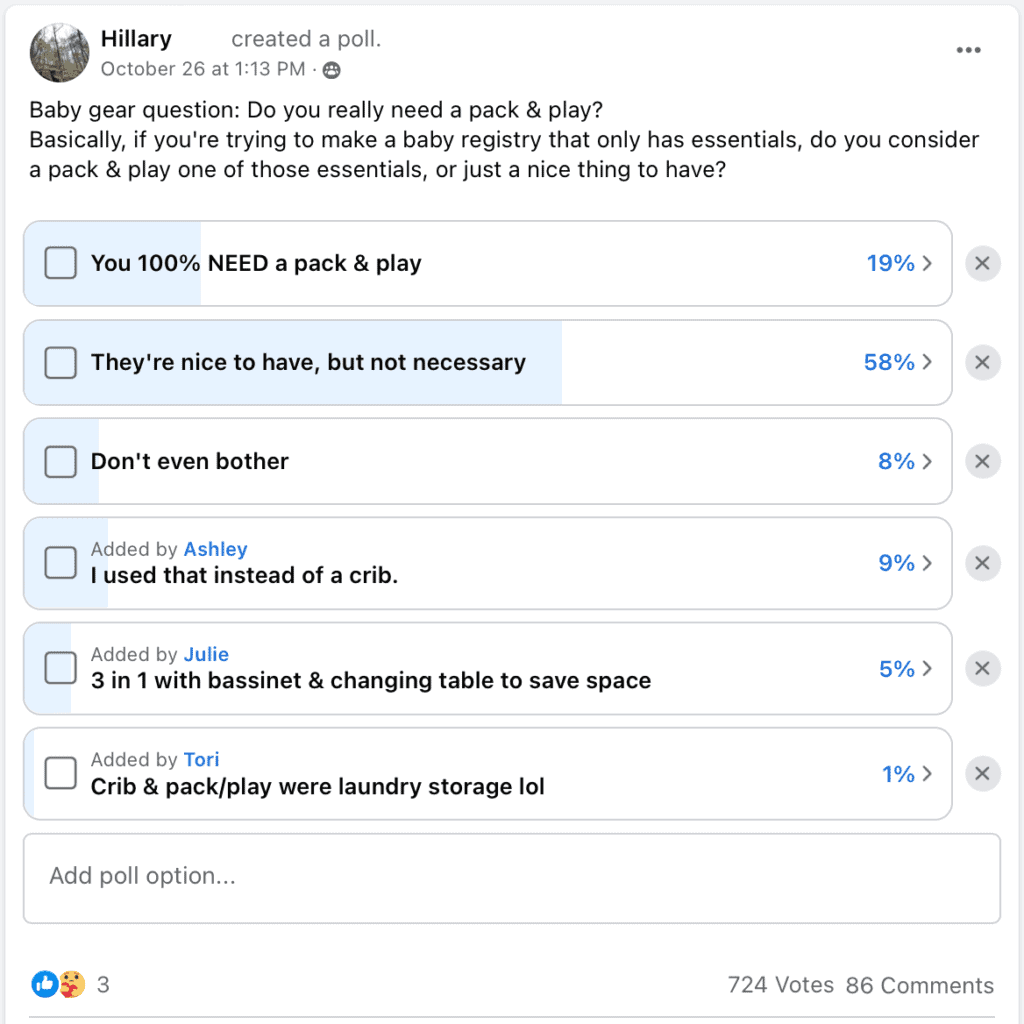 According to the comment section, much of the pack 'n play's popularity comes from its multi-functionality, low cost, and ease of folding and transporting. They also can be useful for well into your child's toddler years, which is virtually unheard in the baby gear world with shelf-lives of 3-6 months. Of all the pieces of baby gear you could buy, I honestly struggle to think of one that can do as much as a pack 'n play. Let's dive a little deeper into all the reasons these moms suggested buying a pack 'n play if you could.
Reasons You Might Need a Pack 'N Play
1. You don't want your house overrun with baby gear
If you're trying to have a more minimalistic babyhood, pack 'n plays are great. Some are marketed as '3-in-1,' but they're can do even more than that. Here are all the ways moms in the comments were using their pack 'n plays:
As a bassinet
A place to safely & temporarily contain babies
A changing table
A crib
A safe play area (especially when moms needed two hands free)
Toy storage
A place to hide items you don't want baby getting into (like freshly folded laundry)
In comments, Lisa said, "Honestly, a pack n' play is great for if you don't want to spend money on a bassinet. They have changing station inserts too so, there's another thing you won't need to buy."
2. You're trying to save money
Having a baby on a budget is possible, and I'd know. (I've already written an article breaking down how I saved $2,077 on baby stuff if you want all the details.)
As noted in the last point, buying a multifunctional item saves not just space, but also money. When a bassinet costs between $50-150, a changing table costs $100+, basic cribs START at $125, and most 'safe places to put a baby down' gear cost at least $50, buying a pack 'n play can save you literally hundreds of dollars.
Mom Samantha agreed, "I don't think it's absolutely needed. But if you're about saving space and money then I'd say get that over the changing table, the bassinet and the crib since it can do everything."
In addition, one of the easiest ways to save money is to buy items that are durable. And pack 'n plays are SUPER durable. This is largely because of their simplicity. They don't have a ton of moving parts or electric mechanisms, so there are fewer ways for it to break down. Case in point: I haven't ever put my pack 'n play into storage since the day my daughter was born (and she's now almost 4). It's still in near-perfect condition and ready for my upcoming baby #3!
Lastly, because they're so durable, you can find 'excellent used condition' pack 'n plays at literally every kid and baby consignment store. You'll also constantly find them at garage sales, thrift stores, and every day on Facebook marketplace for a fraction of their retail price.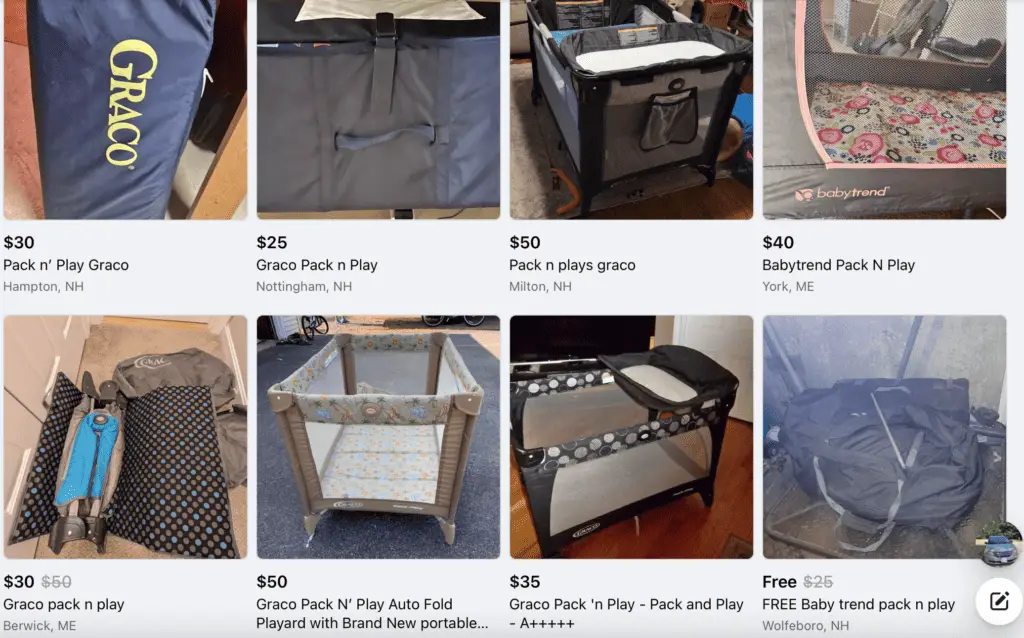 3. You frequently sleep away from home
Whether you're talking about weekends at grandma's or family vacations in hotels or AirBnB's, pack 'n plays are awesome as a storable, convenient sleep solution for your baby. This is especially true if your little one is used to sleeping in one at home, because then they have something familiar for bedtime on the road.
Of the 86 comments on my survey, HALF mentioned how essential a pack 'n play was specifically when traveling. I also heard stories of using pack 'n plays while evacuating from natural disasters and other unexpected jaunts away from home. And this isn't only for bedtime! Hotels, AirBnB's, and even grandma's house are usually not baby-proofed, and it's nice to have a safe place to put your baby down in a strange location.
Mom Kariana said "Our daughter only sleeps in the pack and play because of how much we travel so we never set up her crib. It's so nice to have somewhere that's not strange for your baby to sleep… while you travel."
4. You have a multi-level (or just plain big) house
For parents with bedrooms and living spaces on separate floors, it's often not practical to run your baby upstairs every time they fall asleep, need a diaper change, or you need to put them down for a second. For these situations, having a little "command center" downstairs in a living room or playroom is super convenient. Having a pack 'n play that can function as a napping space, changing table, AND 'place to put baby down' is even more convenient.
Kaylynn commented on this feature specifically saying, "We use our pack n play every day and have since she was born. It had a small newborn attachment so it has been very useful! We have a two story house so we have it downstairs for naps or if I need to put her down for a moment to go to the bathroom etc."
5. You have a really small house
Cami wrote in comments, "Apartment living here. Pack and play became my best friend. I could easily move it from one room to another if I needed to. It folds up and out of the way when baby plays on the floor. It doubles as a baby gate. It keeps baby from escaping when you need to use the toilet."
This might sound counterintuitive, since I just said pack 'n plays are good for big houses. But pack 'n plays can be just as, or even more essential for people with very small homes. Because every square inch is gold, you really need to maximize the usefulness of every piece of baby gear.
However, I will say this plan only works if you expect to use the pack 'n play as your baby's primary sleeping space. If you already have, or want to buy a bassinet or crib, the pack 'n play might just take up more room than it's worth. Brianna agreed, saying, "I don't think they're completely necessary if you plan to have a crib or a changing station and your home is on the smaller side, but it is was a nice place to store toys and clean laundry for awhile, too. 
"
6. You had a c-section
I've never had a c-section, so I never would have thought of this reason! But pack 'n plays are apparently a godsend if you're dealing with limited mobility, scar pain, and/or lifting restrictions.
In the comments section, Abby agreed, saying, "If you have a cesarean, they're absolutely necessary. It offers the highest bassinet portion I've seen in any sleep space. My crib's newborn setting wasn't very high."
Angie also had a c-section and noted, "I ended up having an emergency c-section and couldn't go up and down stairs. Thank god we had a pack n play cause I was able to sleep on the couch with pack and play in living room with me." (For those of you who've never set up a full-sized crib, let me tell you: they're a beast to relocate, construct, and deconstruct.)
7. You have multiple children
Brotherly or sisterly love can be beautiful, but sometimes your kiddos will need some space away from each other. If your older child is a curious or overly affectionate toddler, this is even more important if you need to leave the room for a second.
Morgan agreed in a comment, especially since her two littles tend to fight, saying that when she had "to shower or leave the room and not have my kids fight with one another, I put the youngest in the pack and play."
Alternatives to a Pack 'n Play
Because the pack 'n play is such a versatile piece of baby gear, there are no alternatives which can do ALL the same things. However, there are a number of options which can fill one (or multiple!) of a pack 'n play's roles. Let's look at a few.
Bassinet
As I discuss in my article about whether or not you need a bassinet, these handy newborn beds come in many different varieties. Just like a pack 'n play, a bassinet can help you keep your baby close to your own bed and can function as a diaper changing station in a pinch.
The biggest downside is that they're only usable until your baby grows out of their newborn phase (aka when they hit the 20-30lb weight limit or pass developmental milestones like rolling over or sitting up).
Playpen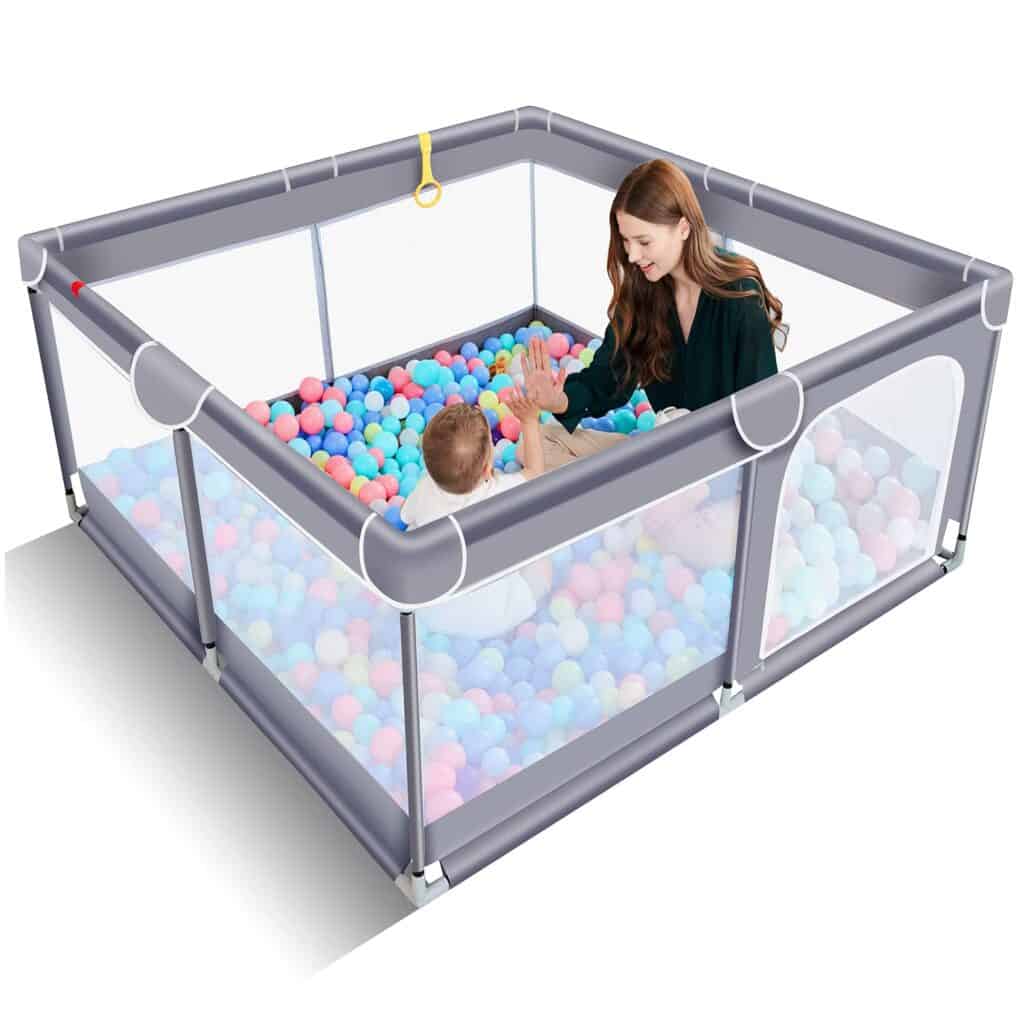 Though the name sounds similar to a pack 'n play and some people use the terms interchangeably, playpens are slightly different. These baby containment zones lay flat on the ground and have wall enclosures around 2' high with a zippered entrance. They can safely contain a baby or toddler (at least one who can't unzip zippers or climb).
Though they can perform the same function of a pack 'n play in keeping your baby or toddler safe when you need to put them down for a moment, they are MUCH bigger, are really difficult to put up and take down (ask me how I know), and are not portable the way a pack 'n play is. They also don't come with any attachments such as diaper changing stations, bassinets, etc.
Baby swing
These are another great alternative to a pack 'n play if you need a place to put your baby down. You might even say they have an advantage because of their unique ability to keep a baby happy, even when put down and away from mom or dad.
Also, though it goes against the recommendations of safe sleep experts, many parents in my survey on whether or not you need a baby swing admitted to letting their children at least nap in a swing. So it at least sometimes does work as a pack 'n play alternative for the sleep functionality.
Of course, you can't change a baby's diaper on a curved, moving swing. And it also doesn't work for children once they pass the weight limits (usually around a year or earlier).
Best Pack 'N Play Options
Some of the moms who responded to my survey were kind enough to include descriptions or specific links to their favorite pack 'n play models. And some mentioned the same style I myself use! I wanted to include these here at the end in case you think that a pack 'n play is the best decision for your family, and you need some help deciding on a type. Here are the kinds that have worked well for the parents before you.
Baby Trend Retreat Nursery Center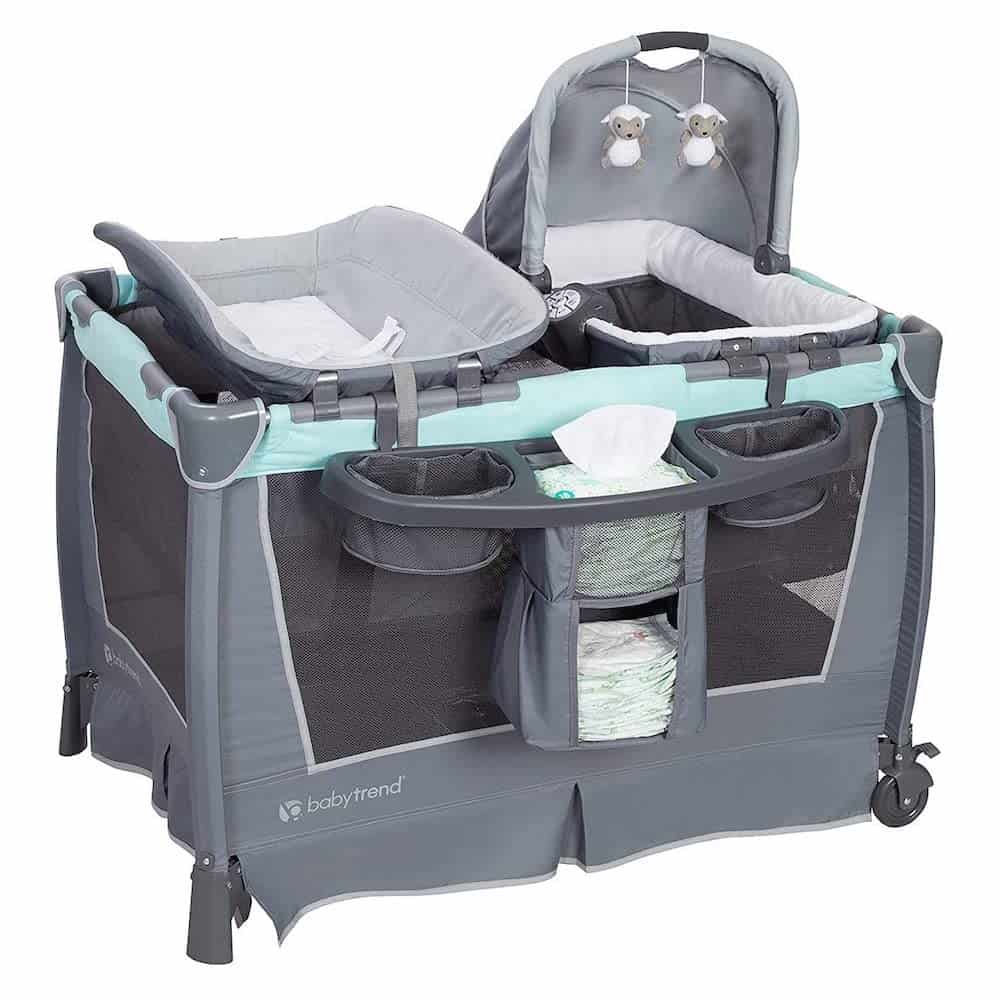 Brook showed us a picture of her nursery set up using this pack 'n play, which proved it's awesome for parents in small spaces. (Her pack 'n play was nestled in a nook that used to be a closet!) Because this pack 'n play has the side attachments for storing wipes, diapers, etc, you don't need another side table for those supplies, saving space.
Plus, the bassinet and changing stations are detachable, so you can take them out to use around your house without the full pack 'n play if needed.
You can check out the Baby Trend Retreat Nursery Center on Amazon here.
Basic Graco Pack and Play On the Go Playard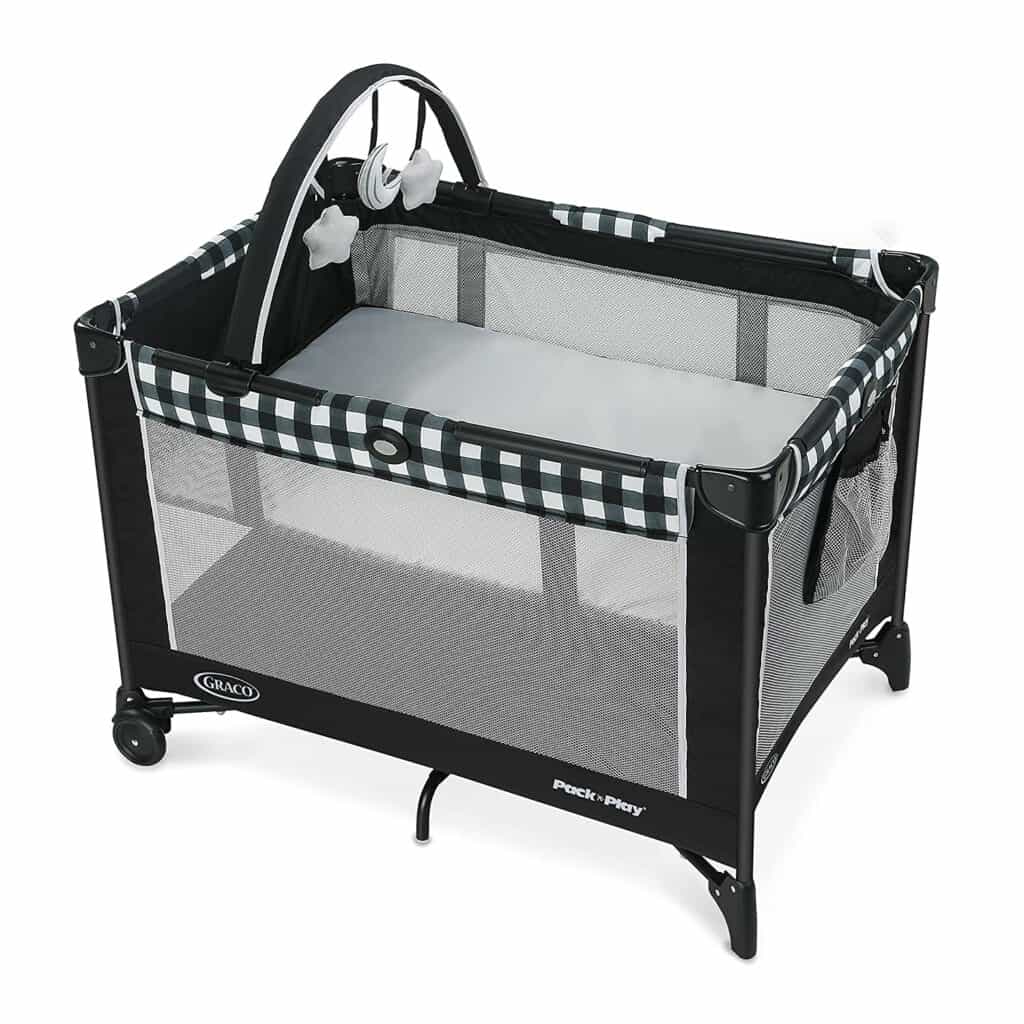 Though many moms liked having the special inserts for a bassinet and changing table, others preferred the simplicity of the Graco base model. (It's also $100+ cheaper than the 3-in-1 pack 'n plays like the one above.) This has what's called a "full-sized bassinet" that can function as a sleeping place for babies who are under 15lbs. This same space works well as a changing table that's much higher than a couch or bed (and so saves your back some aching). The only difference is you can't take this bassinet out and use it in another location; it ONLY works when inside the pack 'n play.
This is the pack 'n play with a 4.8 rating on Amazon out of 41,000+ reviews. It's also the pack 'n play I have, and have used for the last four years. I can't say enough good things about mine!
For the people who suggested using multiple pack 'n plays on different levels of the house, this is also a great option since it's the most economical version with a bassinet. (But don't forget about checking around for gently loved options!)
You can see the Graco "Pack 'n Play On the Go Playard" on Amazon here.
Graco Pack 'n Play Travel Dome LX Playard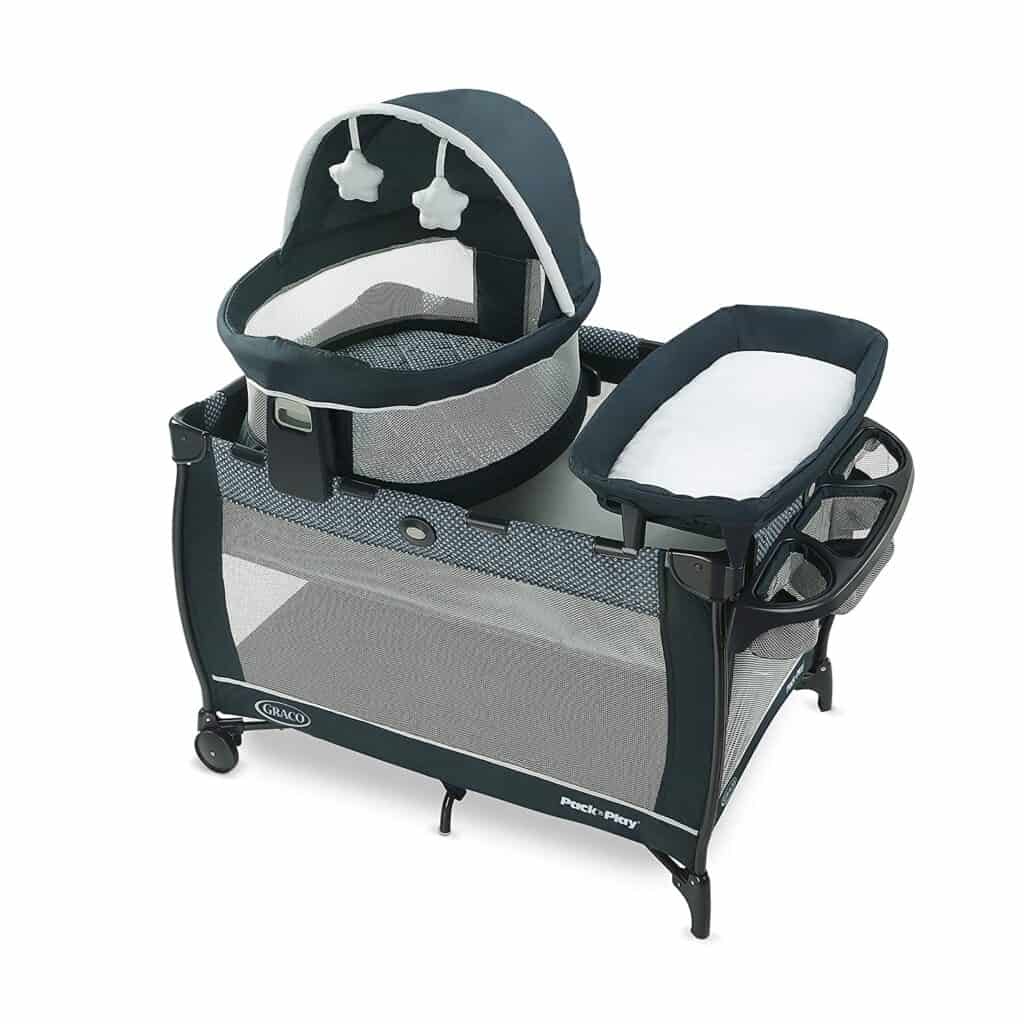 Mom Lexi specifically mentioned getting a pack 'n play with a travel dome attachment because she used it "outside more than inside so I could do stuff/ my husband grill and our son be enclosed and in eye sight." In addition, she said the travel dome attachment "was easier to travel with/ set up at peoples houses" compared to bringing the whole pack 'n play.
The dome attachment folds down much smaller (and is much lighter) than traveling with the whole pack 'n play, so if your child is still small and you need an easily portable solution, this might be a better option. It's also great for outside use since it has the canopy with UV 50 protection.
You can check out the Graco "Pack 'n Play Travel Dome LX Playard" on Amazon here.
---
There you go! Everything you ever wanted to know about pack 'n plays. If you're interested in seeing more content about raising babies on a budget, be sure to sign up for my newsletter below!