I have a confession to make. When I was pregnant with my first child, I totally judged moms who put their babies in baby swings. "They're so unnecessary!" I naively thought to myself, "Who's lazy enough to need a machine to hold their baby?"
(Spoiler alert: that would be me.)
When my daughter was five months old and I'd run myself to the ground constantly carrying a colicky baby, we decided to give swings a try. To my surprise, she LOVED that machine. But two years later, her brother really, really didn't. Now I'm expecting our third child, and I'm wondering which end of the spectrum this little guy will fall.
So I started wondering: what did most parents think of baby swings? If they said to nix the swing, what else could make sleep-deprived parents' lives easier? Would they recommend one to a clueless first-time mom filling out her baby registry?
I started researching. I asked hundreds of moms about their thoughts and opinions on baby swings. They also had thoughts on their favorite options for baby swings, which I included at the bottom of this article. So without further ado, here's the ultimate low-down on baby swings. 
(And if you'd like to read about ALL the baby products 6,000 moms did (and didn't) recommend over my six months of research, you can read my essentials-only baby registry checklist article here!)
Are baby swings necessary?
Of the 462 moms surveyed, 67% said baby swings were not necessary. However, despite their non-essential status, most moms still said swings were nice to have. This was especially true if you could buy a swing from a store with a good return policy or borrow one from a friend.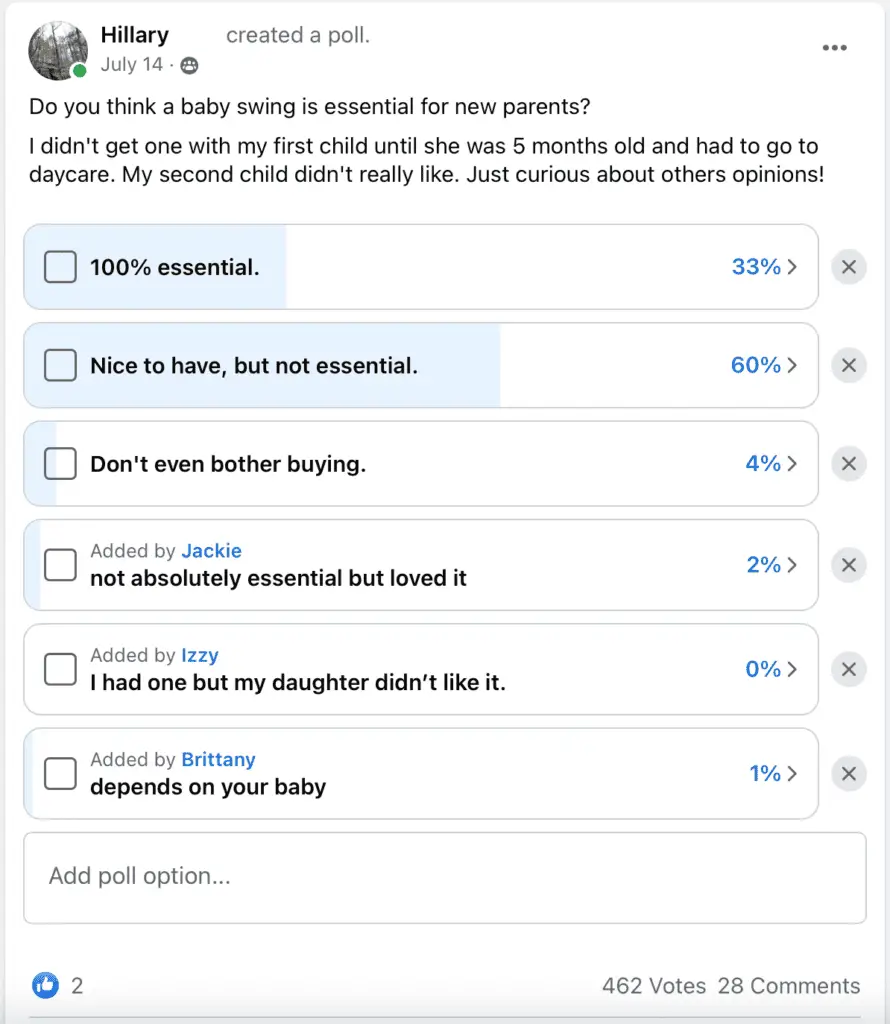 The later point is because babies, just like grown-ups, are individuals with their own preferences. Some babies will find the motion of a swing to be just too much. Others prefer the familiar scent, sounds, or movements of human arms. Because you never know what kind of baby you're going to get, it's probably best to only get a swing you can give back. Alternatively, swings bought secondhand can be 50% or more off retail price, and that's usually a good option, too.   
What's the point of a baby swing?
Basically, baby swings soothe your baby when you can't or need a break. They give you two hands free and your back a break when you really need it.
At some point, you just can't hold your baby any longer. You'll eventually need to use the bathroom, cook dinner, or just lie down for five minutes without touching someone. If we lived in a society where multigenerational households were the norm, there would always be a grandma or aunt or older sibling to pass the baby to and few households would need a baby swing. Since that isn't the reality for most of us, the baby gear industry has created tools like a swing to simplify our lives. 
Because babies come in lots of varieties, swings have a ton of variety when it comes to soothing. You can find ones that fold away and others that take up half your living room. Some fancy ones swing back or forth, side to side, AND around and around. They also can have plenty of cool features: vibration, mobiles, battery-powered options, and even Mozart lullabies come included in one swing or another. 
When do you really need a baby swing?
There are certain people or situations that will benefit more from a baby swing than others. Here are some of the reasons moms in my survey gave for considering them essential. 
Multiple kids
Whether you're talking about older siblings, twins, or higher order multiples, baby swings can be a godsend when you've got more than one kid to care for. I can attest to this! When my son was born, I loved being able to put him down when I needed to tend to my toddler. 
Twin mom Calcee said she was absolutely on team "essential" when her babies were born. She'd put one baby in the swing and one in a baby carrier, then switch as needed. "They loved to swing and still do it now!" 
Colicky baby
Babies who struggle with colic are often even more soothed by motion than your average baby. The Children's Hospital of Philadelphia mentions swings as one potential way to get some relief when babies won't stop crying. But real moms with also have the real experience to back that up.
Mom Bree said "My son was very coliky and spit up a lot. [The swing] was the only way I could get him to nap most of the time." 
Elizbeth also commented, "Idk what I'd do without mine….it's the only place I can put him down without him crying."
You don't have another alternative
Let's face it: you DO need to have some safe place to put your baby down at least occasionally. If you don't have one of the alternatives listed below, or don't plan to get one, you'll really want to find a swing.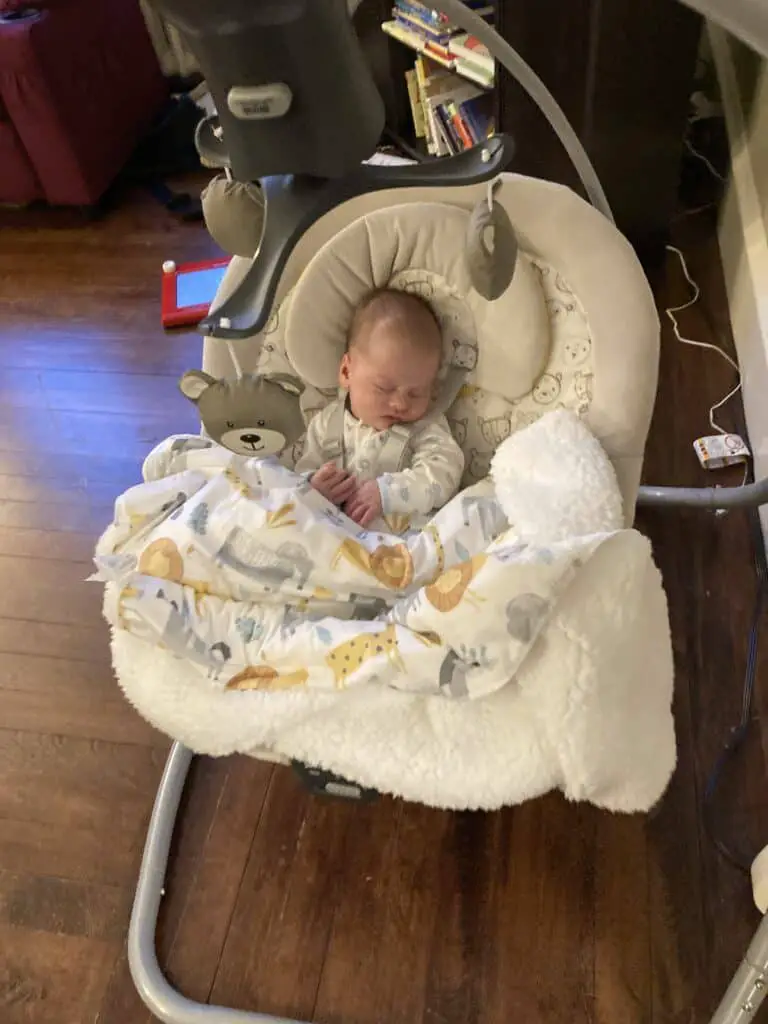 Alternatives to using a baby swing
There are many, many tools out there to solve your "where can I put my baby down" problem. I've already done some surveys of both veteran- and first-time moms to find out which of these tools are the most popular and useful. Here's some of what they said.
Baby carrier
Unlike a swing, a baby carrier keeps your baby physically close. This often soothes them due to the sound of your heartbeat and voice, closeness to your familiar smell, and rocking sensation from your movements. It also gives you two free hands to get most tasks done. In my previous post on whether you need a baby carrier, 88% of moms surveyed considered baby carriers absolutely essential for these reasons (plus some others).
Pack 'n play
Pack 'n plays (also called pack & plays, playards, and playpens) are the jack-of-all-trades of the baby gear world. They are a legit safe sleeping spot, a diaper changing station, a place to put your baby down in a pinch, and they can even function as a toddler holding pen (until your little one figures out climbing!) 
One of the downsides of swings is that you need to safely buckle your baby in each time. If you REALLY need to run to the bathroom or answer the door, quickly setting your baby down in a pack n play might be easier than snapping baby in a five-point harness. 
They're also one of the more popular alternatives I've found when surveying hundreds of parents. You can read my article on whether or not you need a pack and play here.
Baby bouncer
Another big problem with swings is how much SPACE they often take up. Moms in apartments, living with other family members, or who move frequently will really struggle to get the most out of a baby swing. However, baby bouncers have a much smaller physical profile, take up much less space, and sometimes can be folded up and easily stored. Mom Cristy said she preferred a bouncer to a swing because it could be carried and moved from room to room, in addition to being smaller. 
I've also written about whether you need a baby bouncer, if you'd like to see what the average mom thought about this alternative.
Baby lounger
Though loungers are another option, these aren't one of the more popular types of baby gear. In my previous article on whether you need a baby lounger, only 8% of moms considered them necessary. However, they might be a good option for you if you have limited space and prefer gear that doesn't rock or swing for you. 
Mom-approved baby swings
If you're thinking a baby swing would be a good addition to your family, these are some of the swings moms specifically pointed out as working well. 
I'll also note that I was surprised to see multiple moms repeating how the simpler, cheaper swings often worked better to soothe their babies. They compared them to expensive brands like Mamaroo (which got two thumbs down and zero thumbs up in the comments on my survey).
Graco Simple Sway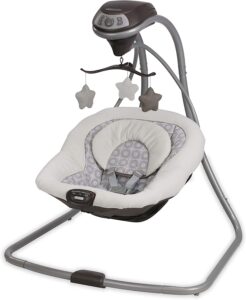 This is the swing I've used for two babies (and is in good enough condition for my upcoming third). It also has a 4.5 star rating on Amazon, out of 15,000+ reviews. We love it because you can pivot the swing to go either back and forth or side to side, depending on what your baby likes. You can view it (or see the reviews) on Amazon here. 
Graco DuoGlider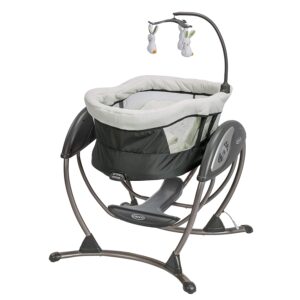 This one pulls double duty (as the name suggests). Not only is it a great baby swing, but it can transition into a safe rocking bassinet WHILE your baby is asleep in it. Win-win! You can view it on Amazon here.
Graco Slim Spaces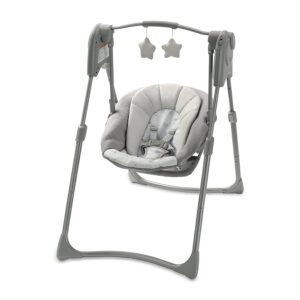 This actually might be your grandma's baby swing. It's battery operated, folds in half for easier storage, and has a super simple design. One of the moms who tried the Mamaroo and didn't like it preferred this style. View it on Amazon here. 
A final note about sleep…
The American Academy of Pediatrics has studied the safety of babies sleeping in devices like swings. Between 2004-2014, there were 122 infant deaths in swings or bouncers, and most of those were associated with the device being used incorrectly, the parent being asleep, the baby being premature/having exposure to secondhand smoke/maternal pregnancy complications, or the child being in the care of someone other than the parent. 
Due to these findings, the AAP has stated that it "recommends against routine sleeping in sitting devices for infants." 
---
So there you go! Everything you needed to know to help you decide whether or not to get a baby swing. (Hopefully! If you still have questions, feel free to leave them in comments.)
If you'd like to get updates and articles on more ways to be a frugal parent, feel free to sign up for my newsletter below!