How much do diapers cost? CNN says that the average cost of diapers is $80/month for one child. Meanwhile, I'm over here regularly spending under $50/month for two kiddos. I know people who spend even less. So what gives? 
Well, it's due to the nature of averages. We can confidently sort all diapers into four categories: brand name, generic/budget, eco-friendly/natural, and cloth. So that $80/month average cost is going to include people using diapers in all of those brackets, meaning some people are spending way more, and others (like me) way less. 
I talk about diapers a lot on this website, since they're such an expensive and essential part of having a baby. I've already written articles about things like whether or not you need a diaper pail, what the cheapest diapers are, and where to get the cheapest baby wipes.
However, lots of people want to know about how much diapers cost when they're in the planning for baby phase. So here's way more data than you ever thought you needed about what it might cost you to diaper a baby for a year.
So How Much Do Diapers Cost, Really?
A bulk pack of generic brand diapers cost $0.11/diaper, name brand diapers cost around $0.20-$0.40 each, and eco-friendly or 'clean' brands can cost $0.50 per diaper or more.
The convenience-sized bag of diapers costs more than a bulk box. For example, the average price of a bag of Pampers diapers is about $10, or $0.37/diaper. A bulk sized box of the same diapers is $53, or $0.31/diaper. You save $10 just by buying in bulk!
Want to know how the numbers change if you decide to buy a different brand? Want to see all my math? Skip ahead to the section that interests you most:
My diaper calculating methods
I'll be looking at any diaper brands I can find, though I'll be leaning heavily on the findings of the New York Times study on diaper quality and price.
I'll also stick to discussing size 3 diapers only, that way we're comparing apples to apples in price. Buying newborn size diapers will be slightly cheaper, and size 5+ more expensive, but I've found that all brands tend to scale at the same rate. 
I'm also using the following assumptions to calculate how much diapers cost over a full year:
A newborn baby uses 12 newborn sized diapers a day for two weeks (168 diapers)
10 size 1 diapers a day for the next month (300 diapers)
8 size 2 diapers a day for two months (480 diapers)
8 size 3 diapers a day for four months (960 diapers)
6 size 4 diapers a day for 2 1/2 months to round out a full year (450 diapers)
That means your baby will use roughly 2,400 diapers in their first year of life.
Finally, I'm also calculating the best prices on diapers using the largest, retail bulk box size available for each brand. In every calculation I ran, buying diapers in bulk decreased the cost. 
Cheapest Premium Diapers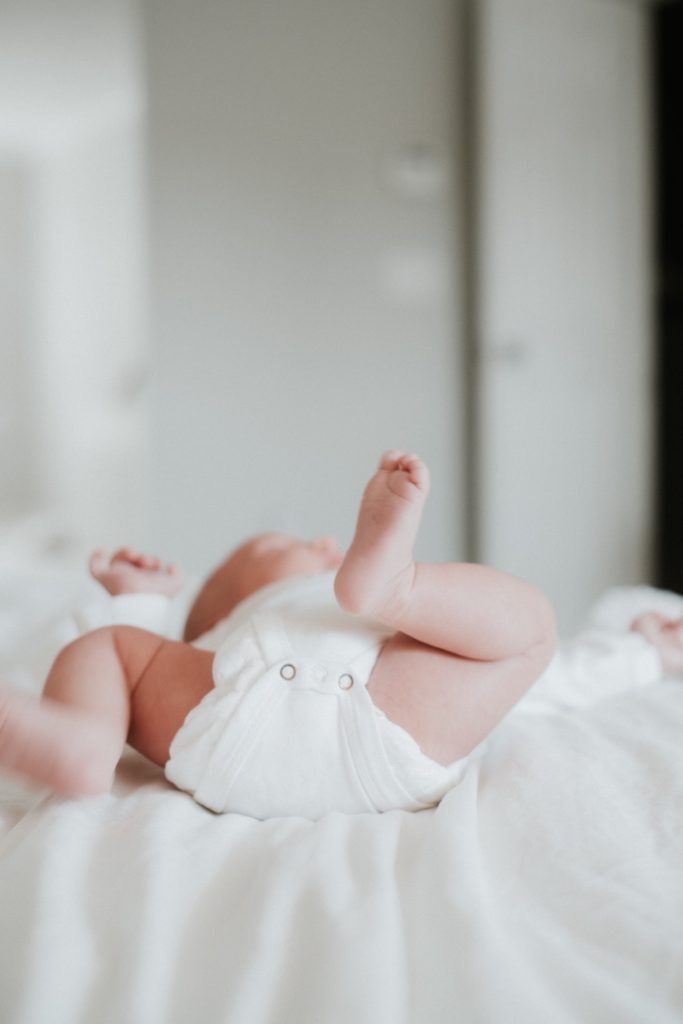 "Natural," "organic," and "clean" are terms which are unregulated and largely for marketing purposes. Generally though, you can expect disposable baby diapers in this category to have some of the following qualities: 
Manufactured with more natural materials (cotton, bamboo, hemp, corn husks, etc).
Use fewer chemicals.
Have labels like 'free from dyes and fragrances,' 'latex-free,' 'hypoallergenic' etc.
Actually compostable diapers.
Fancy certifications from organizations like the "Danish Asthma Association" or "Climate Pledge Friendly."
Carbon neutral companies.
These are going to be the most expensive of all diaper types. It's not unheard of to see prices at $0.85/diaper in this category. This is especially true if you go up to the larger sizes which cost more to produce. However, there are a few options that cost roughly the same as common name brands like Pampers. 
Cheapest premium diapers
Currently, the cheapest options I could find are through subscription models:
The bottom line (pun intended) is this. For premium diapers, expect to shell out $0.25-$0.50/diaper on average, though I've seen as much as $0.85/diaper.
How much do diapers cost per year, if I buy "premium" brands?
You'll spend a grand total of $858 on premium brand diapers in your baby's first year of life if you're using a brand similar to Seventh Generation, Honest, or Dyper in price.
Cheapest Diaper Brands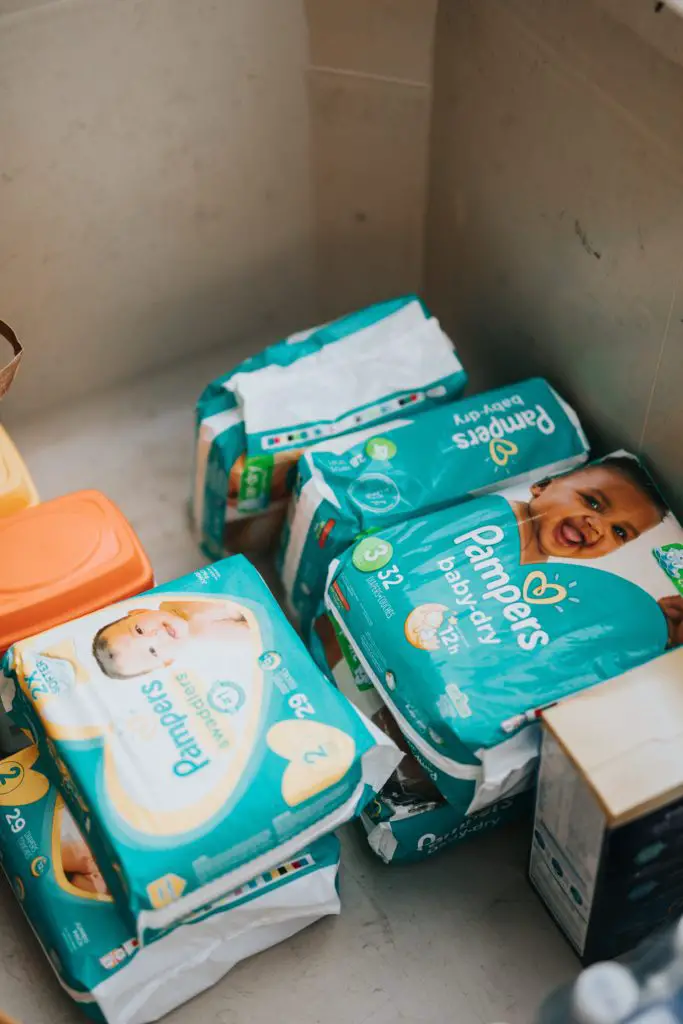 Pampers. Huggies. Luvs. These are all examples of name brand diapers to which some parents are fiercely loyal. But how do they compare, price-wise? 
All name brand diapers offer regular manufacturers coupons. Huggies diaper coupons are slightly more generous in my experience, but they all typically offer $1-3 coupons which can be found on your store's app, the brand's websites/apps/email newsletters, and coupon websites. You can also also pair these coupons with rebates from apps like Ibotta (There's often a $4 rebate if you buy a box of Huggies, for example.) And since you can use both coupons and rebates on the same purchase, you can really get some good deals. 
That said, let's just look at the price of these diapers without coupons, rebates, or other gimmicks. Because at SOME point, you'll need to make an emergency run to the store because you ran out of diapers, and that's when you'll pay normal, no-coupon prices. So as of this publication's latest update, here are the cheapest diaper brands, and the stores you can find them at which are generally the cheapest: 
Cost of Huggies Diapers: 
$0.27/diaper at Costco (with automatically applied manufacturer's coupon; $0.26/diaper without)
$0.33/diaper at Walmart
$0.25/diaper at Target
$0.33/diaper at Amazon
Cost of Pampers Diapers:
Cost of Luvs Diapers:
How much do diapers cost per year, if I buy name brand diapers?
I'm making the same assumptions as my calculations for a year's supply of natural diapers, as seen above. A year's supply of Pampers diapers bought at Walmart would be $589.50. 
You might also like my other article: 25 Best Freezer Meals for New Moms: One-Handed, Nutritious, and Easy!
What are the absolute cheapest diaper brands?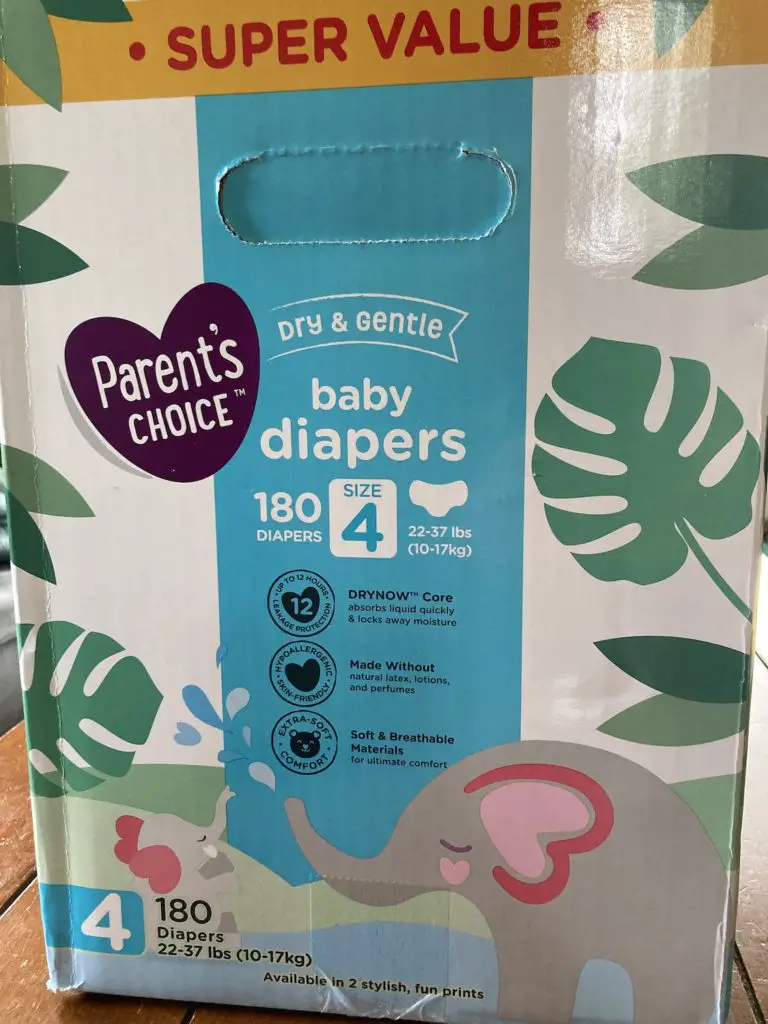 In terms of the absolute cheapest diapers that aren't garbage quality, I find it's a close call between the Target generic diapers and the Walmart ones. 
Walmart's in-house brand, Parent's Choice, is the cheapest diaper. The Parent's Choice size 3 diaper has the low, steady price of $0.11/diaper. This price, amazingly, hasn't changed AT ALL despite inflation in six months I've been tracking prices. Huggies, on the other hand, has increased a full $0.10/diaper in the same time.
Parent's Choice is the option I choose for my family when we use disposable, and I've never had an issue with diaper rashes, chemical burns, blowouts, or leaks.
Target's generic brand is called Up & Up. Their size 3 diapers are usually $0.13/diaper.
HOWEVER. Target regularly offer "spend $100, get $20-30 gift card" deals on their Target app. If you stock up using that deal above, it basically cuts the price by 25%, meaning you're spending $0.10/diaper. 
Other generic brands include…
Kirkland (Costco's in-house diaper) for $0.19/diaper.
Amazon's generic brand, Mama Bear, also runs $0.20/diaper. 
Aldi's sells their generic brand of diapers for $0.11/diaper.
How much do generic brand diapers cost per year?
I'm making the same assumptions as all my calculations above. So using Parent's Choice diapers, you'd spend $255.62 for the first year's supply.
What's the cost of cloth diapers?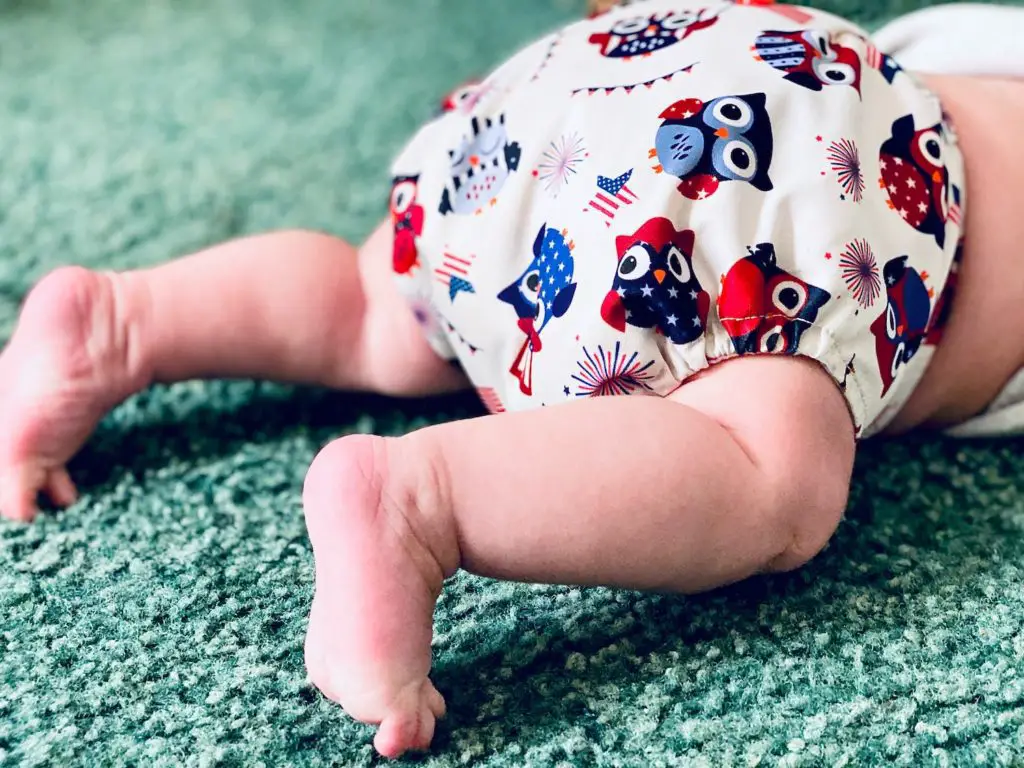 With disposable diapers, the price you pay is all you need to worry about (except perhaps trash costs). With cloth diapers, there are some hidden costs you still need to pay for. 
I didn't feel like reinventing the wheel, since The Arctic Co has a fabulous article on the cost breakdown of their new, cloth diapers. In it, they conclude that you should probably have at least 26 cloth diapers in order to do laundry every other day. 
You can buy a whole stash of Alvababy cloth diapers on Amazon for $160.42. Bumgenius, one of the most popular cloth diaper brands, would cost you $664.80 for the same size stash. I've used both brands and like them equally.
You can, however, buy used cloth diapers. Some people are squeamish about this, but if they're properly inspected, sanitized, and laundered as soon as you get them, they are perfectly safe. You can purchase an entire stash of like new, top-of-the-line cloth diapers, wipes, and wet bags for $200 or less online in places like Facebook Marketplace or Craigslist. I also routinely see full stashes of prefold or pocket-style cloth diapers in "good" or "excellent" used condition for $50, $30, or even free on those same sites. So keep your eye out and let people know you're looking!
Cost of diaper laundry
But of course, the diapers themselves are only part of the equation. You also need to factor in laundry costs —  either water, electricity, and detergent at home, or laundry service costs. (Laundry services for cloth diapers aren't available everywhere and have wildly different prices. Therefore, I won't be tackling how they factor into diaper prices in this article.)
Here's a breakdown for laundry costs:
Let's assume you have an energy efficient/HE style washing machine.
If you do a load of diapers in your home every other day (typical use, in my experience), and each load uses 28 gallons (a rinse cycle and a cleaning/sanitizing cycle), and water costs $2.68/100gallons, then your water costs for cloth diapering would be $136.57 for a year.
In terms of electricity, if you assume a fee of $0.11/kwh, you can estimate it would cost $0.08/load for electricity, or $14.56 for a year. (Notice: it's not recommended to dry cloth diapers in the dryer, as it reduces their lifespan and makes them less effective, so I'm only calculating the cost of the wash cycles.) 
Finally, let's say you get a cloth diaper safe powdered detergent like Arm & Hammer at Walmart and use the recommended amount. That brings your total detergent costs should only total around $8.24 for the year.
This means your laundry costs would be $159.37 for a year of cloth diapering.
How much do diapers cost per year, if I buy cloth diapers?
That means your grand total cost of cloth diapering would be $276.16 for the first year, if you bought all new Alvababy cloth diapers. 
HOWEVER! If you cloth diaper for more than a single year, you don't have to worry about the cost of the actual diapers, just laundry. So if you cloth diaper one child for three years, the yearly cost is $198.30.
If you bought a gently used or unused but secondhand stash, your savings go up even more. Let's say you bought a stash for $50 and used it to diaper a child for three years. That would cost $176.04/year. That's almost $80 cheaper a year than the cheapest disposable diaper!
Where to look if you need free diapers
Diaper Banks
There are plenty of charities nationwide which offer diaper assistance, but they might be tricky to find. They might have names like the "Diaper Connection," "Happy Bottoms," or "Baby Grace Chapters." The National Diaper Bank Network has a great search tool to find a diaper bank near you, even if you don't know what your local bank is called. 
Local Online Neighbors
Many people buy diapers in bulk because of the great discounts, but then can't use all of them if their child sizes up too quickly. Oftentimes, they don't want to just throw those extra diapers away, so they give away the remaining diapers on places like a Buy Nothing group, Craigslist, or Facebook Marketplace. 
Subscribe to Brands
Many name brands, from Pampers to Huggies, offer free samples, coupons, and rewards for your brand loyalty. The free samples are usually quite limited however, and only likely to come upon sign-up, so this isn't a sustainable source for diapers if you're tight on cash. 
Pediatrician's Office
Many pediatrician's offices have diaper supplies on hand. They usually don't have enough to set you up for a month, but they have a small stash on hand. This is because diaper brands often send them samples so parents can try out their products (and hopefully become loyal customers). I know I can always count on the nurse offering me one or two free diapers after the weigh-in portion of a check-up. 
Additionally, pediatricians are very well connected. They usually know where all the services are in the area, which local churches or civic organizations do diaper drives or baby blessings, and how to get in touch with social workers who can help. It doesn't hurt to ask!
---
For more frugal living tips about family life, you might like my other articles: