When you're looking to save money on baby stuff, diapers and wipes are likely two of the first places you'll look for discounts. Babies go through a ton, especially in the first year, and they're absolutely an essential purchase. (Unless you're trying the homemade versions. More on that at the end.)
I've already compared all the prices and written a previous post about the cheapest diapers. But people have also been asking me about the cheapest baby wipes, so I decided to devote a whole article to the topic.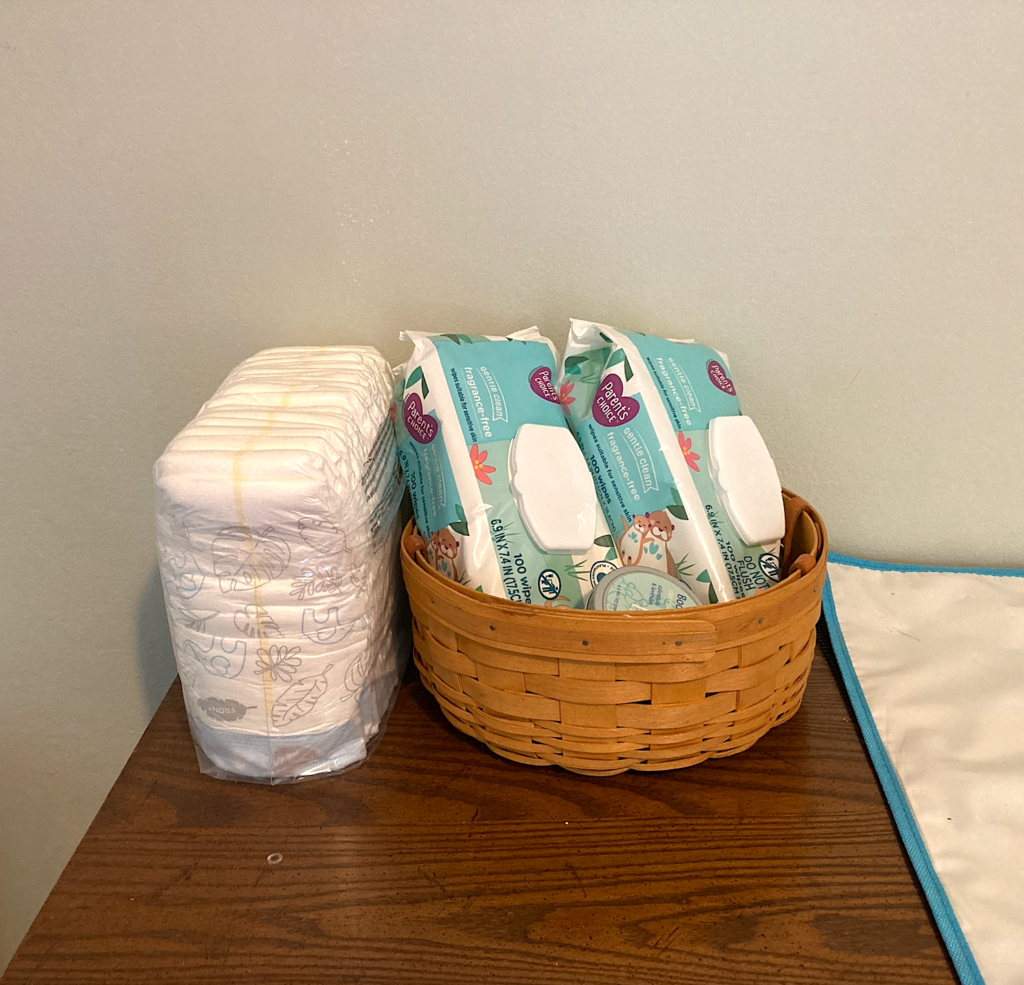 Buying baby wipes is slightly different than buying diapers. With diapers, you might need to be more careful about different materials or scents on your baby's sensitive bottom. Because they wear diapers for nearly 24 hours a day, even small changes can set off some babies. In addition, babies don't grow out of a wipes size. That means if you want, you can buy a year's worth of wipes at a time and not worry about wasting some because of a growth spurt.
So let's talk about how to find and buy the cheapest baby wipes and all the different strategies you can use to get an even better deal.
(A note on inflation: As prices on everything continue to climb higher and higher, you may notice small changes in the cost of baby wipes, too. Despite this, for all the years I've been keeping track of baby wipe prices, the same companies have maintained the same basic rankings in terms of who's the cheapest and who's the priciest.)
What are the Cheapest Baby Wipes?
The cheapest baby wipes are the store brand wipes from Walmart (Parent's Choice), at almost 1.6 cents per wipe. That's equivalent to $1.58 per 100 wipes. Compare this to Huggies or Pampers brand wipes, which are about $2.20 per 100 wipes.
Target (Up & Up) and Sam's Club (Maker's Mark) tie for second place at 1.7 cents per wipe. Aldi's brand, Little Journey, is also remarkably cheap at only $1.77 for 100 wipes, or almost 1.8 cents per wipe.
To compare 11 of the most inexpensive baby wipes, I've provided a helpful table below in alphabetical order. The cost per wipe ranged from 1.7 cents at the low end to 6 cents at the top of the range.
When comparing the unit price (per wipe price) of different wipe brands, it's important to do the math and understand rounding. Companies won't list all the decimal places on their website, so they might label two boxes as selling for "$0.02/wipe," when really it's one box for 1.6 cents a wipe and another box that's actually 2 cents a wipe. The first box is 20% cheaper than the second! If you're unsure, grab your calculator and actually do the math (say $18.99/1200 wipes) and determine the unit price yourself.
Another interesting fact about comparing baby wipe prices is that location doesn't matter (much). Compared to my process for creating a grocery price book (finding and tracking the cheapest foods in your local area), comparing wipe prices is easy. Their prices are basically the same no matter where you are in the continental US. To see this in action, go ahead to any retailer that offers online ordering (Walmart, Target, etc) and change your home store location to see the prices in any state.
Finally, let me mention one helpful website if you're seeing prices on Amazon different than I listed above. (Due to short-running Amazon deals and coupons, promotions by brands, and inflation, you may see something other than my unit prices above on a given day.) Try visiting the price tracking website camelcamelcamel.com. This will let you see all the historical prices for that item for at least the last year. Just copy the url from the Amazon page and paste it into CamelCamelCamel's search bar.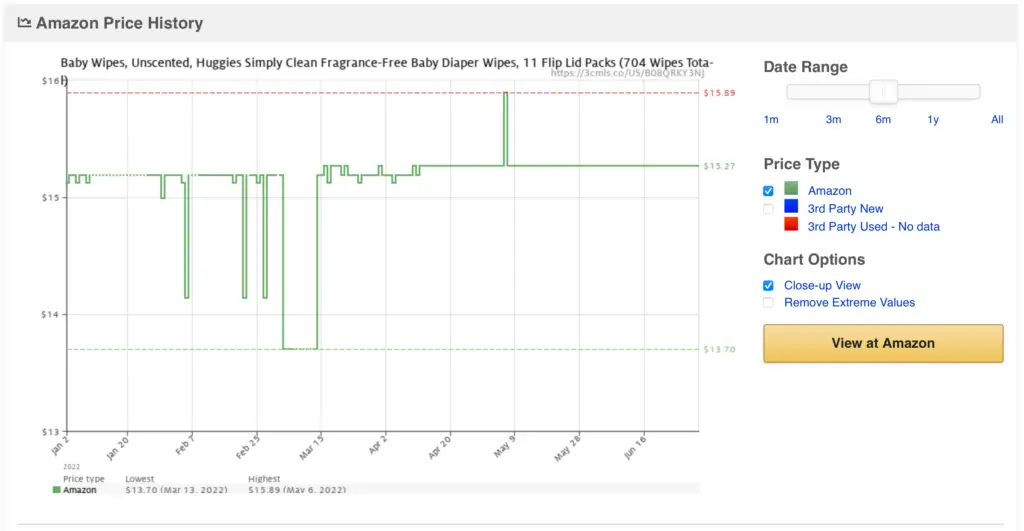 For example, in the time it took me to write this article, the price of Huggies wipes on Amazon had one quick uptick to 2.3 cents per wipe. But otherwise, they've had a very steady price of $2.17 per 100 wipes. They also haven't had any promotions or sales on their wipes recently. If I were buying Huggies wipes on Amazon, I'd probably create an email alert on the CamelCamelCamel site and wait (if I could) to see if it goes on sale soon.
Cheapest Baby Wipes in Bulk
Target sells the cheapest baby wipes in bulk if you buy their bulk generic brand (Up & Up) box and take advantage of their ongoing 20% back gift card promotion. This usually requires you spend between $75 and $100 at a time to earn a $15 or $20 gift card back.
Unfortunately, you can't really buy baby wipes in bulks greater than 1,200 wipes a box. These largest bulk sizes can be found Walmart and Target, with slightly smaller bulk boxes of around 800, 900, or 1100 at most other retailers or online.
I've searched and searched for other websites or locations where you can get warehouse deals or wholesale prices and just cannot find anything as an individual shopper. In my experience, those websites claiming to sell wipes at "bulk discount" prices are the same price or sometimes more expensive than your average box store.
However, a 1200 wipe box is still a great bargain. Depending on the age of your baby, you'll use between 200 and 400 wipes per month, so a 1,200 wipe box will last you many months as it is. For a family who uses the lowest end of that range, you'd only need two of these bulk boxes to have a year's supply.
Where's the Cheapest Place to Buy Baby Wipes?
Target is the store with the cheapest baby wipes if you're willing to buy in bulk and buy generic. Their running bulk deals make their generic wipes 20% cheaper than anywhere else. Otherwise, Walmart's generic baby wipes– at 1.6 cents a wipe– are the best deal.
If you really want to buy name-brand baby wipes however, you might have other, more local stores that offer better deals. Your regional surplus or salvage store is a good place to check first. These kind of stores include chains like Dirt Cheap, Marden's, Gabe's, and Bargain Hunt. These discount markets take merchandise from businesses closing down, overstock, or products that other, fancier retailers couldn't sell. For obvious reasons, diapers and wipes aren't usually hard to sell out of, so they don't often make it to these kinds of second-tier retailers. However, if they do show up at one of these stores, usually with a dented box or ripped packaging, you know it'll be a good deal.
How Much Should I Budget for Baby Wipes?
As a general rule, you should have a yearly baby wipe budget between $50 and $100 if you plan to buy bulk boxes. If you'll buy only one month's supply at a time, you'll spend more. In that case, plan to budget $5 or $10 per month.
So far, we've mostly been comparing wipe prices using bulk boxes as the standard, since that gets you the best deal. But I understand some people buy on a monthly basis, so it's worth bringing up smaller packaging prices. I've compared the bulk and one-month supply prices on Huggies, Pampers, and generic brands. The price increase was always somewhere between 20 and 25% more expensive to buy the smaller sized packages.
This math assumes that you use somewhere between 7 and 15 wipes per day, with more wipes being used in the newborn phase with its seemingly endless diaper changes.
How to Save Money on Baby Wipes
Ok, so now you know which brands and which stores offer the best prices. But what if you want even MORE savings? Here are a few other options for scoring cheap baby wipes:
Use your store's app (like Target Circle) and clip digital coupons which are automatically applied to your purchase at the checkout (if you input your phone number)

Use the Ibotta app to get cash back on your wipes purchases. These are only for name-brand wipe purchases, but usually offer $1-2 off each package.
Use the Fetch app if you're buying Huggies brand wipes. Fetch has a special partnership with Huggies that not only offers cash back for each Huggies purchase, but offers bonus rewards for every $150 you spend on their products.
If you really want to save money, you can consider switching to homemade wipes and only worry about laundry costs. But let's unpack this option.
Is it Cheaper to Make Homemade Baby Wipes?
Disposable, homemade baby wipes cost about a penny to make, so making a batch does save you money. However, if you were already buying cheap baby wipes (at around 1.6 cents each), you'd save less than $2 a month. DIY wipes are much more cost-effective if you compare them to "all natural" wipes, which are much more expensive. 
Here's the math. To make a batch of homemade baby wipes (recipe), you need to cut a roll of thick and sturdy paper towels (like Bounty or similar) in half with a serrated knife. If a package of paper towels cost $10.48, and you get 1,104 "wipes" out of each package, each homemade wipe costs slightly less than one cent ($0.009). Then, make a mix of boiled water, two tablespoons gentle soap (like baby wash or Dr. Bronners), and one tablespoon oil (like coconut oil). Those three tablespoons combined will cost 60 cents, which divided by each of the 1,104 wipes equals about 1 penny per wipe.
So if you're really tight on cash and have an extra fifteen minutes every few months, this might be a great option for you.
---
There you go! Everything you need to know about the cheapest baby wipes in one place. If you'd like to learn more about saving money when you have a baby, be sure to subscribe to my newsletter below to get weekly post updates in your inbox!